Compare to Report 2010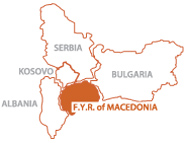 Business Activity
Construction activity in the country expanded, due to investments in public projects and stronger commercial building activity.
Social Performance
Continuous improvement
The goals set by the "Step Change" safety program, completed in 2010, paved the way for TITAN Usje's excellent performance in health and safety in 2011.
First Company Open Day
Responding to stakeholders' expectations as expressed in the occasion of first Stakeholders' Communication Day organized in 2010, TITAN took the initiative to invite all stakeholders in a company Open Day in September 2011.
Partnering with schools project
TITAN Usje continued in 2011 its "Partnering with Schools" project, which was launched in 2010 and covers nine primary schools and one kindergarten in the area.
Reviving the Global Compact Network
TITAN Usje has committed to support the revival of the Global Compact Network in F.Y.R. of Macedonia. by joining efforts with the Network's Secretariat and establish an Initiative Board.
Recognition for continuous efforts
TITAN Usje was the recipient of most awards at the National Awards for Best Socially Responsible Practices in 2010, organized on October 26, 2011 by F.Y.R. of Macedonia's National CSR Coordinating Body.
Environmental Performance
Biodiversity Study in Usje Marl lakes – Award (Usje cement plant, F.Y.R. of Macedonia)
In October 2011, Cementarnica Usje was awarded the first prize in the National Competition for Corporate Social Responsibility in the category "Environment".
Granting Integrated Pollution Prevention Control (IPPC) permits (Kosjeric cement plant, Serbia and Usje cement plant, F.Y.R. of Macedonia)
Integrated Pollution Prevention Control (IPPC) is a licensing regime for certain types of industrial activities, including cement production. The purpose of the process is, through an integrated approach (one permit), to...