Training and human resources development
TITAN Group standards
Non-discrimination
Prohibit discrimination in all employment-related practices.
Working hours
Respect the right to leisure and avoid excessive overtime.
Wages and benefits
Guarantee a wage that - at a minimum - meets national legal standards and additional benefits responding to the needs of the majority and local priorities.
Apply appropriate disciplinary
measures.
Prohibit harassment.
Child labor
Prohibit employment of under 18-year olds.
Forced labor
Prohibit any type of forced or bonded labor.
Freedom of association
Respect the right of people
to form and join associations
and to bargain collectively.
Compare to Report 2010
The continuous development of human resources is a priority for the TITAN Group aiming at life-long learning and enhancement of professional skills and competencies that are necessary to anticipate present and future challenges. In 2011, further emphasis was placed by TITAN on training and development programs, expanding the scope and the participation of employees from different hierarchical levels.
Although compared to 2010 the total number of training man-hours declined, approximately 43% of all TITAN long-term training initiatives directed to both direct and indirect employees continued. Moreover, new programs like the "C-Mentors", the "Step Change" and the "Stakeholder Engagement Development and Training Program" have been launched in different regions with positive outcomes.
More than 3,000 training man-hours were also dedicated to corporate social responsibility and sustainability issues, like human rights and diversity, working conditions and responsible supply chain management. Acknowledging the diverse conditions, culture and experiences in every country, a new training guide and glossary of business terminology, for managers and employees incorporating TITAN's experience, is currently under development.
2011 Τraining man-hours per employee
| | |
| --- | --- |
| Country | man-hours per employee |
| Bulgaria | 30.7 |
| Serbia | 25.7 |
| Turkey | 23 |
| F.Y.R. of Macedonia | 19 |
| Albania | 19 |
| Egypt | 17.5 |
| Greece | 17 |
| U.S.A. | 12.5 |
| Kosovo | - |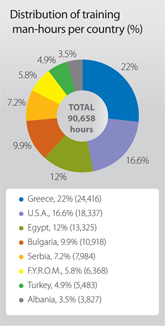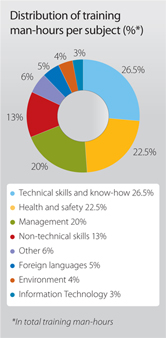 STEP Program
In pursuit of the corporate value of continuous improvement, the "STEP - Self Training E-learning Program" has been implemented:
This is a flexible and up-to-date one year program adjusted to the fast-moving and technologically advanced contemporary working environment. The e-learning content has been developed by Harvard Business Publishing, a non-profit organization that is fully owned by Harvard Business School, one of the most prestigious educational institutions in the world.
The program's purpose is to enhance leadership and management skills across all Business Units. Following a mixed approach, and adopting various learning methods such as case studies, assessment tests and workshops as well as e- learning modules, it allows the development of a learning culture, transferring know-how and fostering the TITAN corporate culture.
STEP Program address the areas of coaching, leadership and emotional intelligence. It provides immediate and constant access to the learning content, through an e-learning platform that is interactive and easy to navigate. It is a flexible developmental program, since participants may study at their own pace, taking personal responsibility for its completion.
Although this program contributes to reducing training costs, since it does not require participants' physical presence and thus eliminates trave­ling costs, no sacrifice is made in the program's content and effectiveness.