Distribution of value created by TITAN Group in 2011
Total value created in 2011 was €1026.6 million and distributed to key stakeholders as follows:
To employees for salaries, pensions and social benefits, including additional benefits beyond those provided by law:€218.1 million
To local and international suppliers: €642.9 million
For new investments in fixed assets: €58.1 million
Τo state and local authorities through taxation: €82.6 million
Return to shareholders and minorities: €24.9 million
TITAN Group standards
Non-discrimination
Prohibit discrimination in all employment-related practices.
Working hours
Respect the right to leisure and avoid excessive overtime.
Wages and benefits
Guarantee a wage that – at a minimum – meets national legal standards and additional benefits responding to the needs of the majority and local priorities.
Apply appropriate disciplinary
measures.
Prohibit harassment.
Child labor
Prohibit employment of under 18-year olds.
Forced labor
Prohibit any type of forced or bonded labor.
Freedom of association
Respect the right of people
to form and join associations
and to bargain collectively.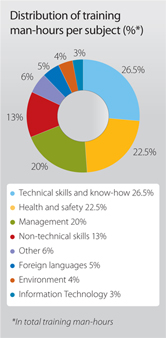 Compare to Report 2010
Τhe TITAN Group has striven to safeguard sustainability of employment since the beginning of the financial crisis in 2008. Resizing of operations in all regions has been reflected in the employee turnover, which continues to decline, although a new "greenfield" plant started operations in Albania early in 2010 and a new plant was acquired in Kosovo at the end of 2010.Accordingly, employee turnover ratio at Group level reached 12.9%.
Following a policy aiming at balancing current market constraints with long-term perspectives and business strategy, TITAN continued to implement a restructuring and resizing plan with transparency and full respect for the affected colleagues. Taking under consideration social criteria, such as age, family conditions and maturity, voluntary early leave plans were implemented along with other supportive measures.
Employment at TITAN is characterized by long-term relations with employees. As in previous years, in 2011, temporary and part-time contracts for employment were limited to 58 and 12 contracts respectively in all Group activities. All employees with part-time and temporary contracts are provided with additional benefits, like catering, transportation and medical care by TITAN.
Direct Employment*
| | | | |
| --- | --- | --- | --- |
| Country | 2009 | 2010 | 2011 |
| Greece** | 1,677 | 1,527 | 1,216 |
| U.S.A. | 1,942 | 1,834 | 1,733 |
| Bulgaria | 365 | 342 | 324 |
| Serbia | 372 | 340 | 327 |
| F.Y.R. of Macedonia | 356 | 358 | 331 |
| Egypt | 819 | 766 | 759 |
| Albania | 119 | 208 | 214 |
| Turkey | 253 | 255 | 246 |
| Kosovo | - | 531 | 490 |
| Total | 5,903 | 6,161 | 5,640 |
* End year
** By "Greece" is identified the regional operations as well as the Group corporate center.
Employment and procurement policies followed by the TITAN Group in all countries focus primarily on people from local and surrounding communities. The number of indirect employees has also declined further in 2011. Approximately 1,300 indirect employees have served in operations like quarrying, transportation of goods, cleaning and catering, while another 1,000 indirect employees have been hired for more short-term operations, like maintenance and technical support. The majority of contractors and suppliers are also local in a percentage that varies from minimum 80% to 90%, depending on the country.
Establishing a culture and workplace where employees take pride in their success is critical in meeting the Group's goals and aspirations.
Engaging with employees starts with a communication policy based on "open doors", encouraging all to seek information or report problems, of all degrees of seriousness. Formal communication channels are available at Group, country or local levels, reflecting the wealth of local cultures and diversity of needs and expectations. In all countries different types of written communication, web-based or other have developed. In all cases the key areas of TITAN focus remain health and safety, care for people and communities, respect for customer needs and stakeholders' expectations. Safety performance, and transferring corporate values into practice, are regarded as one key criteria for mana­gers' annual performance appraisals.
Communication days for employees are organized in most countries, enabling direct communication with management as well as timely information-sharing on all issues related to employment conditions and future perspectives. Freedom of association is respected for all employees and collective bargaining agreements cover all employees in countries where such practices are applicable. In all countries, health and safety committees operate with employee representatives to support mana­gement in the on-going improvement of health and safety conditions at work.

Percentage of women in employment
| | | | |
| --- | --- | --- | --- |
| Country | 2009 | 2010 | 2011 |
| Bulgaria | 28.7 | 28.2 | 23 |
| Serbia | 16.9 | 16.3 | 15.4 |
| F.Y.R. of Macedonia | 16.3 | 16.3 | 16 |
| U.S.A. | 13.7 | 13 | 12 |
| Greece | 12.9 | 12.9 | 13.6 |
| Albania | 9.9 | 12 | 10 |
| Egypt | 2.9 | 3 | 2.8 |
| Turkey | - | - | 5.4 |
| Kosovo | - | - | 3.6 |
Percentage of women in management
| | | | |
| --- | --- | --- | --- |
| Country | 2009 | 2010 | 2011 |
| Serbia | 25 | 30 | 23 |
| F.Y.R. of Macedonia | 28.5 | 28.5 | 26 |
| Bulgaria | 16.6 | 22 | 18 |
| U.S.A. | 17.5 | 15 | 13.5 |
| Albania | 7.6 | 8 | 7 |
| Greece | 7.4 | 8 | 6.25 |
| Egypt | 3.2 | 3.6 | 3.4 |
| Turkey | - | - | - |
| Kosovo | n/a | - | - |