Compare to Report 2010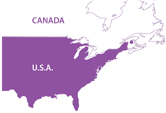 Business Activity
Construction market overview
Renewed economic uncertainty was the reason for sub-par growth through most of 2011. For the year, U.S. real GDP grew at an estimated rate of 1.7%.
U.S.A. Operations
The South Atlantic region (which includes Virginia, the Carolinas, and Florida) fared better than the U.S. as a whole, with cement consumption increasing 4% over 2010's level.
Florida
Although Florida's economy improved modestly in 2011, most of the improvement did not benefit the construction and materials sectors.
Mid-Atlantic
Virginia's economy gained momentum in 2011. Housing faces a hangover from previous overbuilding but the pace of foreclosures has slowed and excess inventories are being consumed.
New York / New Jersey
TITAN America's Metro New York business experienced a reduction in volume sales and intense competition.
Separation Technologies (ST)
Sales of ProAsh®, derived from the Company's proprietary ash beneficiation process, exceeded 1.1 million tons in 2011.
Outside the U.S.A., ST's proprietary technology was successfully tested in the industrial minerals sector, opening up another market for the Company.
Social Performance
Safety Evaluation
In the effort for continuously improving their performance in Safety, the TITAN America corporate safety team has developed a safety evaluation tool in order to internally benchmark the performance of the more than 130 operating sites in the country in the following two key areas...
Engaging with our employees
Aligning corporate values with personal values is recognized by TITAN America as a top priority. Accordingly, the TITAN America Leadership program (TAL), a values-centered leadership development program, is implemented systematically over the last six years.
Problem Solving Training
Aiming at implementing a systematic Problem Solving process so that common pitfalls of ineffective problem solving are avoided, a Problem Solving training took place for the Florida Business Unit management members, in which more than 150 employees were trained.
Volunteering and wellness
Highlighting the importance of volunteering and wellness, TITAN America developed the TITAN Team Challenge program, which is an opportunity for TITAN America employees to help others in need, while at the same time exercising.
Raise awareness through employee engagement
Cement and building materials industry plays an important role in a nation's economic prosperity and security. TITAN America continues to make strides in sustainable development, balancing economics with environment and people.
Environmental Performance
Energy Star Award® (Roanoke cement plant, Virginia, U.S.A.)
Energy Star® is a U.S.A. Environmental Protection Agency (EPA) program that identifies and establishes the benchmarks for superior energy performance.
Trout pond in an old limestone pit (Roanoke cement plant, Virginia, U.S.A.)
TITAN America's Roanoke Cement is continuing work on the Trout Pond Restoration Project, initiated in 2008 and designed to create a sustainable ecosystem rich in biodiversity.