Utilizing feedback from stakeholders
TITAN Group CSR policy
We aim to build trust with all our stakeholders by communicating openly and transparently, and seeking engagement to understand the impact of our operations and their concerns.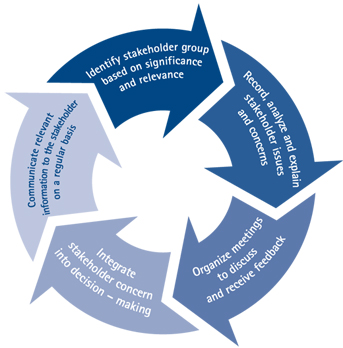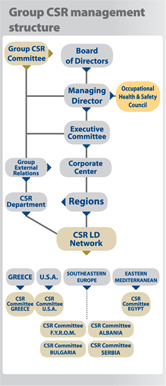 TITAN CSR Committees operating in all countries are responsible for assessing and monitoring at least once each year the outcomes of CSR performance at country level, as well as the feedback received from stakeholder dialogue. Furthermore, in each case CSR Committees direct the development and implementation of stakeholder engagement action plans which meet particular local priorities.
Group and national CSR Committees re-examine priorities of relevant action plans every year to enable more focus on those issues which are the most material to TITAN's business and where action is needed. Health and safety at work, as well as employment and human rights, were acknowledged as top priorities for all those engaged in countries like Greece and Egypt that have suffered most from the financial crisis and political uncertainty.
To meet this aim in 2011:
> The 2nd CSR Report was published by TITAN Cement in F.Y.R. of Macedonia and presented to all stakeholders at special events.
> An open plant day was organized for more than 900 people from neighboring communities, local authorities, media and other key stakeholders.
> Local Stakeholder Advisory Panels were set up in Serbia and Kosovo. The company issued its first annual CSR Report for 2010 and a web-based reporting process for environmental performance in Serbia.
> TITAN Cement in Bulgaria completed its first Stakeholder Mapping and Profiling Survey in line with AA1000 SES standards and launched a relevant action.
> TITAN Cement in Serbia organized two stakeholder meetings seeking feedback regarding its CSR strategy, priorities and performance at national level.
> TITAN in Kosovo took the lead in co-operating with other local enterprises and the American Chamber of Commerce to found local/national CSR networks.