Quarry Rehabilitation and Biodiversity
Compare to Report 2010
Biodiversity management and quarry rehabilitation continue to be high on the list of TITAN's CSR priorities. TITAN co-chairs and actively participates in the WBCSD/ CSI Biodiversity and Land Stewardship Task Force. Activities of the task force include the development of Guidelines on Quarry Rehabilitation that were released in January 2012, the adoption of a Screening Tool for Quarries to identify high biodiversity value areas, as well as a Guidance document for Biodiversity Management Plans.
The Guidelines besides setting the principles for quarry rehabilitation also focus on the vital role of external stakeholder engagement, through continuous communication and open dialogue, in the successful development and execution of a rehabilitation plan and a mutually beneficial outcome for both stakeholders and operators. TITAN has launched a systematic program to communicate the new WBCSD/CSI Guidelines to its business units, aiming to use them as a tool for supporting new rehabilitation plans or improving existing plans at its quarry operations.
In addition, TITAN leads the core team within the CSI for adopting a specific screening tool in identifying high biodiversity value areas, and supporting alignment of reporting for CSI Biodiversity KPIs. TITAN already uses the Integrated Biodiversity Assessment Tool (IBAT) for screening its quarry sites, and other tools of similar capacity will be evaluated as part of the on-going work within the CSI.
All areas are screened and biodiversity value is identified, based on national or international designations (e.g. international treaties, Natura etc.). The baseline biodiversity assessment on a case-by-case basis helps to identify the specific species under protection and the importance of their preservation, as included in national or international conservation or protection species lists (like IUCN Red List of Threatened Species), and that are usually related with the designation of protected areas/habitats. Work will continue in 2012 for identifying the number of protected species in all the Group's quarries under KPI 1.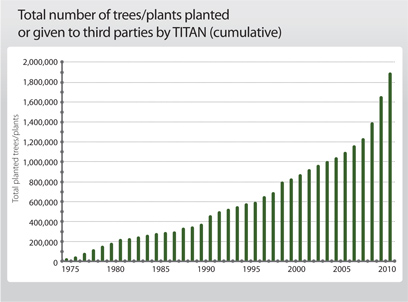 TITAN has fully integrated the recently adopted by CSI biodiversity key performance indicators for all Group activities, including quarries that are not directly linked to cement production (e.g. aggregates quarries). Accordingly, the number of Group quarries that are regarded as of high biodiversity value according to KPI 1 have increased from five to nine quarries. Out of the total nine quarries, three quarries (or 33%) actively implement biodiversity management plans (KPI 2). More specifically, aggregate quarries in Greece were incorporated under KPI 1, as they are located within areas that were recently characterized as "wildlife refuges" under new national legislation enforced in 2011.
Moreover, TITAN has already started to formulate a more systematic Biodiversity Management Plan (BMP), to record methodology, objectives and actions, and to monitor progress, for the Zlatna Panega quarry (Bulgaria) and will continue in two more cases (Pennsuco and Center Sand quarries in the U.S.A.) in 2012. The Management Plans will form the basis for the eventual rehabilitation plans.
In 2012 the Cement Division Greece is planning to conduct Biodiversity Studies for a "baseline" assessment at the pozzolana quarry on Milos island (inside a Natura area) and in other aggregate quarries within "wildlife refuge" areas.
As it regards the Group's quarries environmental performance targets, almost 100% of our wholly owned active quarries (as in 2009) have been certified with ISO 14001 or equivalent system. For most of them an EIAS has been developed and a Rehabilitation Plan is in place and implemented, and actions are on-going to develop such studies and plans for the remaining ones. This procedure might in some cases be time consuming due to each country's legislative and licensing provisions or due to other external factors and hard conditions faced in specific countries (e.g. Egypt).
In 2011 the total area of "active quarries" was 91.7 million m2, of which 17.3 million m2 are "affected", 14.7 million m2 have been rehabilitated or restored to date (cumulative) and 59.7 million m2 are still "green" (untouched).
The total number of trees planted to date, mainly for reforesting/rehabilitating depleted quarries in Greece, amounts to 1.9 million. In 2011 there was no rehabilitation of surface areas using the "hydro-seeding" method, but based on the accumulated experience over recent years and the positive results of this method, it will continue to be used in the future.
Under CSI TF5, TITAN will be building on the work of the WBCSD Ecosystems Focus Area, to explore strategic partnerships with scientific organizations, well-recognized international organizations or NGOs.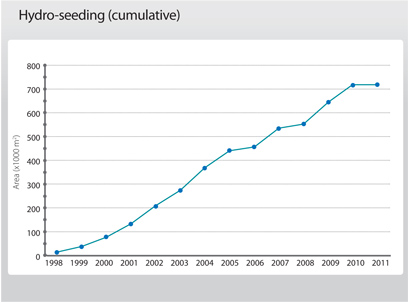 Application of specific methods to reduce the visual impact of quarry operations (Altsi gypsum quarry, Greece)
In line with its environmental awareness and activities towards enhancement of biodiversity, TITAN applies usual traditional, but also modern methods for quarries rehabilitation, such as reforestation of depleted benches, hydroseeding or creation of water reservoirs with respect to local community needs.
At Altsi gypsum quarry in Crete island (Greece), the visual impact of the operations has always been the most challenging issue, due to the white color of gypsum and the location of the quarry, which is visible from a long distance, in an area where tou­rism is the main employment of the local society. Following long-time concerns and efforts, TITAN nowadays applies specific methods for smoothing the contrast of the open quarry that together with systematic reforestation are expected to succeed in mitigation of the overall visual impact of the quarry exploitation activities.
The method followed is based on the spraying and covering of the depleted slopes/benches with an environmental friendly aqueous solution with iron oxides that provides an ochre color to the slopes. This process has a satisfying result, since it reduces the color contrast in the natural landscape and has an overall positive aesthetic effect. Efforts towards visual impact mitigation continue, by trying new practices for optimizing the end result.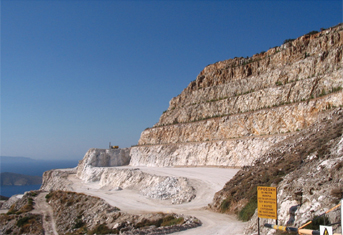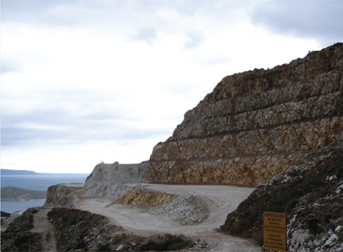 Catawba creek (Roanoke cement plant, Virginia, U.S.A.)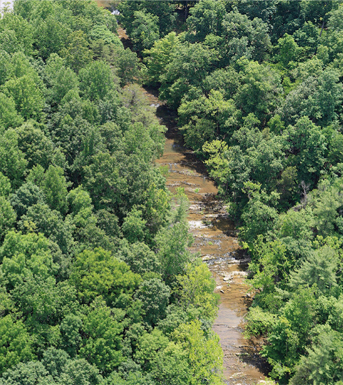 In line with its long-standing water and land management program, Roanoke Cement has established over the last six years the annual event of "Catawba Creek Cleanup", a spring Sa­turday morning gathering of employees and local residents who walk the banks of surrounding Catawba Creek polishing the stream. Roanoke Cement Company employees and volunteers have picked up more than ten tons of trash since the start of the program in 2006.