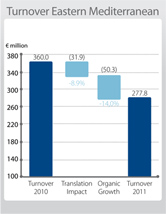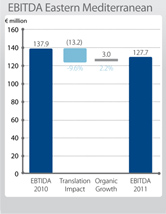 Compare to Report 2010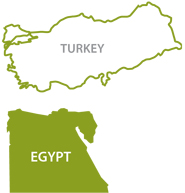 Business Activity
In 2011, following the January 25th revolution, the construction industry faced several challenges. Although cement builders expected a sharp decrease in the market consumption due to the unrest and production disturbance, the domestic cement consumption showed a decrease of just 1.6% in 2011 reaching 48.7 million tons.
Social Performance
Priority on Safety
The top priority for TITAN Egypt remains the safety of its employees and the continuous improvement of health and safety performance in the two plants that the Group operates in Egypt.
Engaging with employees
With the aim of promoting good health and a healthy lifestyle among its employees, TITAN Egypt launched in 2011 a campaign against smoking, followed by medical examinations and a blood tests campaign.
Global Management Challenge
Originally developed by a group of ma­nagement researchers from the University of Strathclyde, in Scotland, the Global Management Challenge is currently one of the most popular management simulators in the whole world.
C-Mentors Program
A new program C-Mentors was launched in 2011 first in Egypt, then in Albania, Bulgaria and Turkey.
Engaging with local community
The Alexandria plant contributed to the well being of the Wadi El-Kamar area with a series of actions at local level that included...
Environmental Performance
Certifying EMS according to ISO 14001 (Beni Suef cement plant, Egypt and Tokat cement plant and ready-mix unit, Turkey)
During 2011 the following facilities:...
Environmental activities at APCC (Alexandria cement plant, Egypt)
An ambitious environmental initiative for the residential area close to the Alexandria plant was launched in June 2011, on the occasion of World Environment Day.