Addressing the challenges of climate change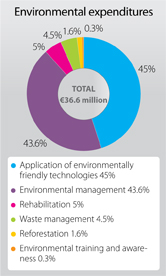 Compare to Report 2010
Climate change has been the most significant challenge for the human race over the last two decades. Population growth increases the need for construction materials, as well as for energy. The need to ba­lance this against the impact of the carbon footprint on society and the environment is evident and the TITAN Group has focused its climate mitigation strategy on this area since it was first adopted in 2008.
The requirement to do less harm during production, but also do more good when developing and applying new products with a smaller carbon footprint and a longer and more eco-friendly lifecycle, are two sides of the same coin.
Despite the financial downturn, the TITAN Group has not relaxed its efforts to reduce its carbon footprint and improve its overall environmental performance. Although in 2011 specific targets have been met such as water consumption management and expanding the scope of performance measurement at Group level (see p. 11), in certain areas like the replacement of carbon intensive fuels with alternative ones, further work is needed.
Reducing TITAN's environmental footprint is considered both an opportunity and a challenge. All revised Group environmental targets agreed in 2009 have been broken down into local action plans that are coordinated, monitored and evaluated by local Committees with the support of the Group's Engineering and Technology Department.
In 2011, internal and external independent assessments covered the following operations:
ISO 14001 systems of the Greek Division Cement plants.
CO2 emissions management systems in F.Y.R. of Macedonia and Albania.
Environmental performance of cement plants in Thessaloniki, Greece, F.Y.R. of Macedonia and Albania.
Moreover, the reported CO2 emissions were verified at eight of TITAN's cement plants.