Compare to Report 2010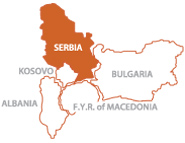 Business Activity
Following the country's economic improvement, construction activity showed the first signs of recovery in 2011, after two consecutive years of contraction. Cement demand increased by an estimated 5%.
Social Performance
Engaging with our people
TITAN Kosjeric continued and strengthened its efforts to improve the professional and personal skills and competencies of both direct and indirect employees with a variety of vocational training programs implemented throughout 2011.
Commitment to share value
TITAN's long-term commitment to create value which is shared with key stakeholders was the main focus of dialogue developed in a more systematic way in 2011.
Environmental Performance
Granting Integrated Pollution Prevention Control (IPPC) permits (Kosjeric cement plant, Serbia and Usje cement plant, F.Y.R. of Macedonia)
Integrated Pollution Prevention Control (IPPC) is a licensing regime for certain types of industrial activities, including cement production. The purpose of the process is, through an integrated approach (one permit), to:...