TITAN Group CSR policy
We aim to build trust with all our stakeholders by communicating openly and transparently, and seeking engagement to understand the impact of our operations and their concerns.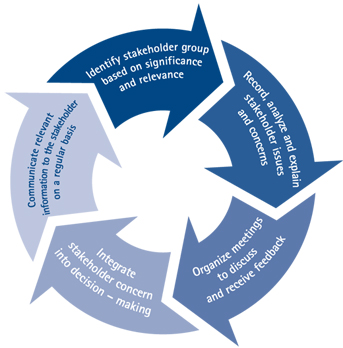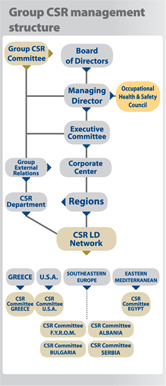 Compare to Report 2010
Measuring performance against set goals and objectives is part of continuous self improvement. The Group engages with experts and stakeholders, seeking meaningful ways to understand and record the "added" and shared value created by its operations and CSR endeavors. This is a long-term, on-going and challenging process which has initiated changes at all levels.
In 2009 the Group CSR Committee revised its specific targets related to environmental and safety performance, while adopting new targets related to the alternative fuel substitution rate and water consumption. The new targets were calculated taking into account new acquisitions, equity changes and new kiln lines that had become operational in the meantime. The TITAN Group is committed to achieving these by the year 2015, with the exception of the alternative fuels substitution rate-targeted for 2017. Accordingly, all data referring to Group performance against targets are based on the 2009 equity base.
In addition, having performed environmental audits to each one of the Group cement plants by the end of 2011, it was decided to revise the frequency from two to three years.
In 2011 TITAN decided to adopt the definitions and KPIs proposed by the WBCSD/CSI Water Management Task Force. Thus, starting with this year's report, information regarding water withdrawal, consumption and discharge will be included.
Likewise, in its reporting of local impact indicators (specifically for Biodiversity), TITAN has extended the coverage of quarries, in order to include all types of raw materials extraction and use (cement and aggregates).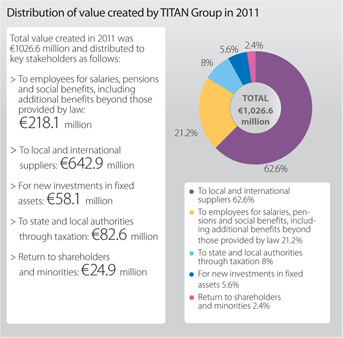 Environmental expenditures
In 2011 total expenditures relating to the implementation of the Group's environmental policy came to €36.6 million. This amount includes investments of €16.4 million, representing about 45% of total costs, in environmentally friendly technologies. Another €15.9 million or 43.6% of the total costs was used on environmental management, while €4.2 million was directed to other environmentally related expenses, including €1.7 million (about 4.5%) on waste management, €1.8 million (about 5%) on rehabilitation, €0.6 million (about 1.6%) on reforestation and €0.1 million (about 0.3%) on training and awareness building.
TITAN Group Equity
Plant
2009
2011
equity
GR
Kamari
100%
100%
Patras
100%
100%
Thessaloniki
100%
100%
Elefsina
100%
100%
SR
Kosjeric
100%
100%
MK
Usje
100%
100%
BG
Zlatna Panega
100%
100%
U.S.A.
Pennsuco
100%
100%
Roanoke
100%
100%
EG
Alexandria
100%
100%
Beni Suef
100%
100%
TR
Tokat
50%
50%
AL
Antea
100%
100%
KO
SharrCem
-
100%