TITAN Group pledges
TITAN Group values express its engagement to apply the following international standards:
U.N. Global Compact
ISO 14001: 2004 Environmental
Management System Certification
OHSAS 18001
SA 8000 Social Accountability
GRI (reporting guidelines)
WBCSD/CSI (sectoral initiative)
European Alliance for CSR
(European initiative)
Also related to ISO 26000 CSR principles and particularly the following:
Accountability
Transparency
Ethical behavior
Respect for stakeholder interests
Respect for the rule of law
Respect for international norms and behavior
Respect for human rights
Distribution of value created by TITAN Group in 2011
Total value created in 2011 was €1026.6 million and distributed to key stakeholders as follows:
To employees for salaries, pensions and social benefits, including additional benefits beyond those provided by law: €218.1 million
To local and international suppliers: €642.9 million
For new investments in fixed assets: €58.1 million
Τo state and local authorities through taxation: €82.6 million
Return to shareholders and minorities: €24.9 million
To our stakeholders
To our shareholders
Compare to Report 2010: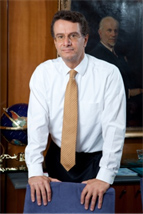 To our shareholders
2011 was another year of macroeconomic uncertainties, resulting in a challenging background for TITAN. Construction activity, both in the private and the public sector, remained subdued in most of the developed world. Capacity utilization of cement, concrete and aggregates manufacturing facilities was low on average, putting pressure on margins. Increasing energy costs also weighed on operating profitability.
At TITAN, we were faced with particular challenges in each of our three most important markets: the U.S.A., Egypt and Greece.
In the U.S., construction stagnated at extraordinarily low levels, held back by falling house prices, limited job creation and poor public finances. Demand in the South East, where the bulk of our operations is located, may have good longer term prospects, but in the current crisis has witnessed a steeper decline than average.
In Egypt, the political uncertainty and social upheaval resulting from the revolution in early 2011 affected economic activity and had a negative impact on demand for building materials.
In Greece, the construction sector has collapsed. The continued recession of the Greek economy and the ominous forecasts regarding its future course, led to a dramatic further decline of building activity. The decline in housing starts continued for the fifth consecutive year, and even accelerated. So far, investment in housing has declined by approximately 70% since 2006. At the same time, repeated cutbacks in the public investment program and the State's inability to cover its arrears, has brought public works to a standstill. In addition to the sharp decline of demand in the domestic market, the upheaval in North Africa prevented planned cement exports to the region.
Continued growth in Turkey and a marginal turnaround in South Eastern Europe, could not compensate for the lower contributions from the U.S., Egypt and Greece. Our results suffered correspondingly. Turnover posted a 19% decline compared to 2010. Earnings before interest, depreciation, and amortization declined by 23% to €243 million. Group net profit, after minority interests and the provision for taxes, reached €11 million, a 89% decrease compared to the previous year.
In this context, our efforts were focused primarily on the strengthening of TITAN's economic fundamentals and the containment of costs.
During the year, we generated €206 million of free cash flow from operating activities. Group net debt was further reduced by €69 million to €708 million. In the last three years, net debt has been reduced by a total of €406 million. We refinanced our existing syndicated credit facility, extending maturities to 2015 and ensured the availability of committed unutilized facilities and cash to cover short term debt over 3 times. We also took the decision to recommend to the General Assembly that no dividend be distributed this year. This interrupts a 58-year run of continuous dividend payouts between 1953 and 2010.
Aiming at further curtailing fixed costs, we adopted a two-year restructuring plan across the Group. In the process of implementing it, we sought to recognize and address the impact on our stakeholders. Even more than in normal times, our long-held commitment to engage our stakeholders and communicate openly proved invaluable.
At the same time as we took necessary steps to face the current crisis, we continued with our ongoing efforts to improve energy efficiency and reduce our carbon footprint. Among the highlights was the successful commissioning of our new processing facility for alternative fuels in the Zlatna Panega plant in Bulgaria. Its operation improves the competitiveness of the plant while, at the same time, providing a useful service to society.
Looking ahead to 2012, the global macroeconomic landscape is still quite uncertain and a number of important risks are clearly present. The outlook remains most challenging in Greece, as the country is undergoing a deep economic and political crisis and uncertainty is high. We expect demand for our products to record a further considerable decline.
On the other hand, in the U.S.A., there is increasing optimism that the market may be beginning to recover. On the whole, we are also guardedly optimistic about the outlook in most of the emerging markets in which we operate.
Nonetheless, our priorities will remain centered, once again, around financial flexibility and cost containment.
Plato said: "Our City is what it is because our people are who they are". At TITAN we are grateful to all our employees for their support during these challenging times.
Dimitri Papalexopoulos
Chief Executive Officer
To our stakeholders
Globally, 2011 was another year of economic uncertainty and growing social tensions.
TITAN, like so many other companies, faced new and unexpected challenges. Our industry has been particularly hard hit by the financial crisis, due to its cyclical and capital intensive nature. Furthermore, extraordinary circumstances prevailed in Greece, which is faced with the most severe crisis in its recent history, and in Egypt, which is undergoing a fundamental political transition.
In this context, our priority in 2011 was to effectively manage the implications of the crisis and to secure business viability in all countries where we are engaged. Where necessary, we implemented restructuring programs, while, at the same time, actively seeking to address the impact on our stakeholders. Even more than in normal times, our long-held commitment to engage with our stakeholders and communicate openly proved invaluable.
Meanwhile, twenty years after the Rio agreement on climate change, environmental sustainability and its long-term impact on humanity remain a crucial, yet largely unresolved challenge. Corporate social responsibility and environmental stewardship remain fundamental to our business strategy for sustainable growth. In 2011 we continued our efforts for self-improvement in our three priority areas: Accident prevention, environmental sustainability and engagement with key stakeholders.
In the realm of safety at work, the Group's track record continued on an encouraging positive trend. But, tragically, after two years free of serious incidents, an employee of one of our contractors lost his life in an accident at our recently acquired cement production plant in Kosovo. Despite our progress, there is clearly room for further improvement. New initiatives are being taken to further enhance our safety culture and safety performance.
As part of our sustainability strategy, we endeavor to go beyond legal compliance with local environmental requirements and strive to apply international standards and best practices. In this respect, new environmental permits - meeting exacting European standards – were secured in both Serbia and F.Y.R. of Macedonia. The year also saw the successful completion and commissioning of our processing facility for alternative fuels in the Zlatna Panega plant in Bulgaria. Its operation improves the competitiveness of the plant while, at the same time, providing a useful service to society.
A focus on building trust, engaging in meaningful partnerships, fostering new initiatives in our communities, creating and promoting win-win solutions for business and society at large, is acquiring increased significance as society's needs and expectations evolve. Today, the early commitments we undertook almost a decade ago under the United Nations Global Compact pledge and the Cement Sustainability Initiative Charter, seem more important and relevant than ever.
In 2011, we further expanded our engagement at global, industry, and local levels. We accepted the invitation to co-chair the Cement Sustainability Initiative for a two year period. Acknowledging the power of collective action, we have taken a leading role in the development of local business networks for corporate social responsibility and sustainable development in countries where we operate. In addition, during the past year, the U.N. Global Compact Office, recognized TITAN as having reached the "advanced" level against the new criteria defined for communicating progress to stakeholders.
At TITAN, we remain committed to corporate social responsibility as an integral part of our way of doing business. We believe that continuous self-assessment and self-improvement enhance the long-term viability of the Group. We are grateful to all our employees and key stakeholders for their support during these challenging times.
Dimitri Papalexopoulos
Chief Executive Officer